Saturday Cycle
This class is taught by: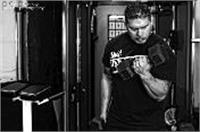 Mark Grijalva is the owner and operator of MGM Fitness. He is a Certified Personal Trainer, who has over 14 years of experience within the fitness realm. He has a wide range of experience and education that provides him with the knowledge, training and professionalism to work with youth, adults and seniors. Mark focuses on teaching all client's basic fundamentals to an exercise program while he works with each client on reaching their individual goals whether it be to lose weight, increase muscle mass, increase cardiovascular endurance, sport conditioning and/or overall strength.
Mark has a passion for fitness and takes his role seriously on how he can help each client reach and sustain their personal fitness goals. He encourages every one of his clients to learn, build and sustain a healthy lifestyle.
He also understands the dedication it takes to live a healthy lifestyle as he personally, in earlier years, has struggled with sustaining a healthy balance in his own life.
Saturday Cycle is a 45 minute cycling class offered on Saturday mornings. Get your weekend started with a ride that will get you in the zone. This class will challenge your strength and endurance with interval drills all while pedaling to up-tempo music guaranteed to get you in the right mindset for whatever the weekend brings your way.
Upcoming classes:
Sign Up

Sat

Dec 15 9:00 am - 9:45 am

with

Mark

Grijalva




Sign Up

Sat

Dec 22 9:00 am - 9:45 am

with

Instructor

Unassigned




Sign Up

Sat

Jan 05 9:00 am - 9:45 am

with

Instructor

Unassigned




Sign Up

Sat

Jan 12 9:00 am - 9:45 am

with

Instructor

Unassigned




Sat

Jan 19 9:00 am - 9:45 am

with

Instructor

Unassigned




Sat

Jan 26 9:00 am - 9:45 am

with

Instructor

Unassigned




Sat

Feb 02 9:00 am - 9:45 am

with

Instructor

Unassigned




Sat

Feb 09 9:00 am - 9:45 am

with

Instructor

Unassigned




Sat

Feb 16 9:00 am - 9:45 am

with

Instructor

Unassigned




Sat

Feb 23 9:00 am - 9:45 am

with

Instructor

Unassigned




Sat

Mar 02 9:00 am - 9:45 am

with

Instructor

Unassigned




Sat

Mar 09 9:00 am - 9:45 am

with

Instructor

Unassigned




Sat

Mar 16 9:00 am - 9:45 am

with

Instructor

Unassigned




Sat

Mar 23 9:00 am - 9:45 am

with

Instructor

Unassigned




Sat

Mar 30 9:00 am - 9:45 am

with

Instructor

Unassigned




Sat

Apr 06 9:00 am - 9:45 am

with

Instructor

Unassigned




Sat

Apr 13 9:00 am - 9:45 am

with

Instructor

Unassigned